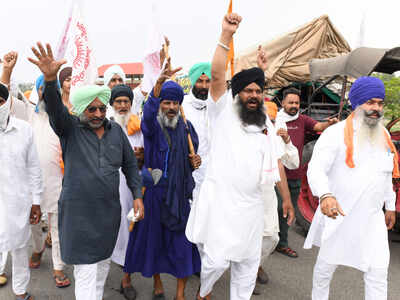 Farmers shout slogans as they make their way to Delhi to join farmers who are continuing the protest against the central government's recent agricultural reforms in Beas (AFP)
NEW DELHI: Twelve opposition parties, including Congress, Trinamool Congress, Shiv Sena, Nationalist Congress Party, Left parties, Samajwadi Party and the DMK, on Sunday extended their support to the Samyukta Kisan Morcha's countrywide protest call on May 26 to mark six months of the farmers' protest against the Centre's farm laws.
A joint statement by Congress president Sonia Gandhi, former PM H D Deve Gowda, NCP chief Sharad Pawar and CMs Mamata Banerjee, Uddhav Thackeray, M K Stalin and Hemant Soren said the Union government must stop being "obdurate" and resume talks with farmers' leaders and repeal the three contentious farm laws.
Signatories to the joint statement included Farooq Abdullah of National Conference, RJD leader Tejashwi Yadav, SP chief Akhilesh Yadav and Left leaders Sitaram Yechury and D Raja.
"We extend our support to the call given by the Samyukta Kisan Morcha to observe a countrywide protest day on May 26 marking the completion of six months of the heroic peaceful kisan struggle," the statement said. "The central government must stop being obdurate and immediately resume talks with SKM on these lines," it added.
This is the third time this month that opposition parties have joined forces to pressure the government. On May 12, they had demanded the "repeal of farm laws to protect lakhs of our 'annadatas' becoming victims of the pandemic so that they can continue to produce food to feed the Indian people".
Before backing the farmers' protests, the joint group of opposition parties had, on May 2, raised the public health crisis triggered by Covid-19, where they asked the government to ensure uninterrupted flow of oxygen to all hospitals and health centres.
FacebookTwitterLinkedinEMail