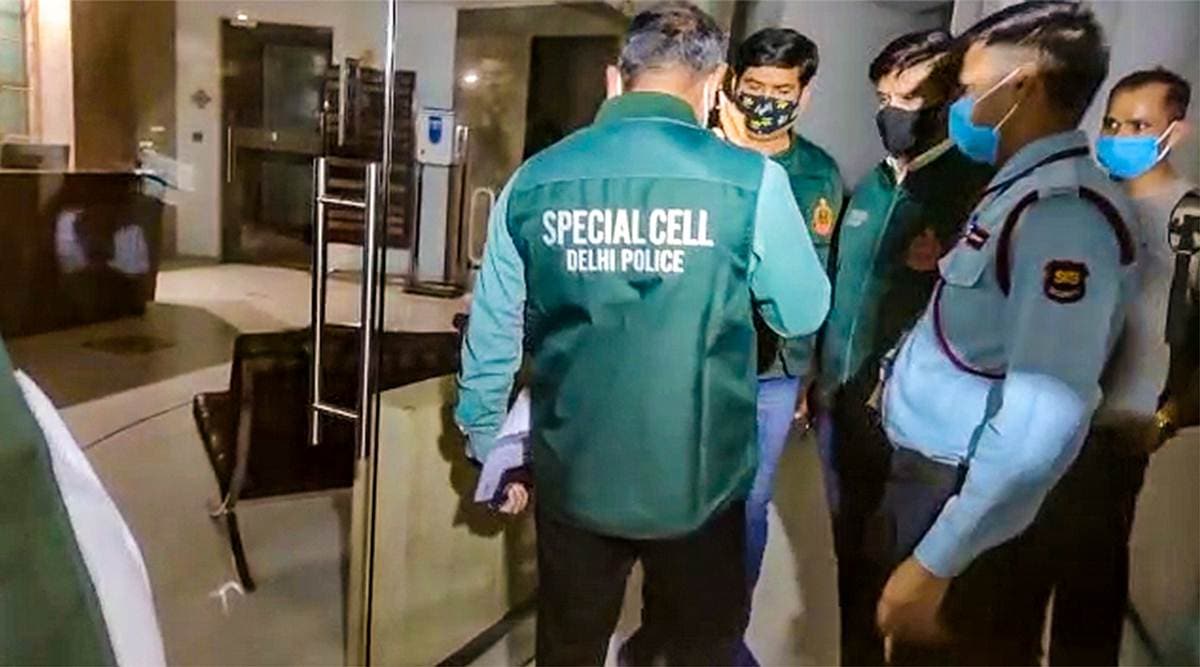 A DAY after police visited Twitter India's Delhi and Gurgaon offices to serve a notice in connection with posts by BJP leaders alleging a "Congress toolkit" plot which led the Congress to lodge a complaint of "forgery", it has emerged that Delhi Police's Special Cell has also served notices to Congress social media head Rohan Gupta and spokesperson M V Rajeev Gowda as part of its probe.
A senior officer said that police are conducting a preliminary probe and summoning all people and organisations allegedly involved in the "toolkit" issue — the BJP posts were flagged as "manipulated media" by Twitter.
While an FIR has not been lodged yet, the officer said that BJP spokesperson Sambit Patra, whose post was flagged, is also likely to be summoned for questioning.
Meanwhile, the Congress asked Twitter to affix the "manipulated media" label to tweets of 11 Union Ministers, including IT Minister Ravi Shankar Prasad, claiming that they were spreading "false and malicious propaganda" against the party.
Speaking to The Indian Express, the senior police officer said: "We served notice to Twitter as we want to know what information Twitter has about the toolkit and why they chose to give the 'manipulated media' label. Apart from Twitter, we have also served notices to the complainants, representatives of Congress, asking them to join the investigation to explain the whole sequence of events. We are also going to serve notice to BJP spokesperson Sambit Patra for questioning in the coming days."
In their complaint, Gupta and Gowda named BJP president J P Nadda, party spokesperson Patra, Union Minister Smriti Irani and party general secretary B L Santosh.\
Gowda said Tuesday that they received a notice from Delhi Police on May 21 and have conveyed that they will pursue the complaint in Chhattisgarh where police have registed an FIR naming Patra and former chief minister Raman Singh for their "toolkit" tweets.
"Since an FIR had been registered in Chhattisgarh and we had not seen any satisfactory progress from the Delhi Police on the matter, we impleaded ourselves as co-complainants. We replied to Delhi Police on May 22 stating that we will be pursuing our complaint in Raipur," Gowda said.
Meanwhile, Congress general secretary Randeep Surjewala wrote to Vijaya Gadde, Twitter's Lead for Legal, Policy and Trust & Safety, and Jim Baker, Twitter's Deputy General Counsel and Vice President, Legal, seeking action against 11 Union Ministers for allegedly spreading false and forged documents.
In the letter, Surjewala provided a list of Twitter handles of several Union Ministers and the tweets they had posted on May 18, the day the BJP released what it called a "toolkit" by the Congress and described them as an attempt to malign Prime Minister Narendra Modi and the Government over the handling of the Covid pandemic.
Surjewala claimed the tweets were posted "with a clear mal-intent to exploit the social media space (Twitter) to spread lies and malicious propaganda throughout the territory of India."
Among the Twitter handles listed by Surjewala include that of Union Ministers Giriraj Singh, Piyush Goyal, Smriti Irani, Ravi Shankar Prasad, Prahlad Joshi, Dharmendra Pradhan, Ramesh Pokhriyal Nishank, Thawarchand Gehlot, Harsh Vardhan, Mukhtar Abbas Naqvi and Gajendra Singh Shekhawat.
"You would appreciate that the forged, fabricated material and the claims made under the malicious #CongressToolkitExposed, by the various ministers…is identical to the material that has already marked as 'manipulative media', by Twitter, on various accounts including that of the BJP Spokesperson- Mr. Sambit Patra (@sambitswaraj)," Surjewala said.
He also mentioned that the Chhattisgarh Police have filed an FIR against Patra in connection with the alleged "toolkit".
"It is also a matter of fact that people tend to believe (as) 'true' and take at face value any information that is put up directly by a Union Minister…through his/ her official/ verified Twitter account. Hence, it becomes all the more imperative to tag 'manipulative media', on all such tweets made by Ministers…on the above referred forged toolkit document created by the BJP," Surjewala said.